Hina Saxena has today to her merit more than 35 years of experience behind her as a VOICING ARTIST and COMPERE which encompasses compering for variety of shows, as a B+ Grade drama and voicing artist of Aakashvani, and as a compere and narrator for Doordarshan, both Regional and National. She has also lent her voice to documentaries for Indian Space Research Organization – Development Education Communication Unit (ISRO – DECU), Education Media Research Centre (EMRC) and Information Television (ITV).
She has compered innumerable shows such as music & dance performances, fashion shows, inaugurals, conferences and public gatherings for both public and private sectors. She has also lent her voice to audio visual media including educational films, AIR features, documentaries, commercials, AIR & DDK productions and for other private channels too. As a proficient dubbing artist, she has dubbed several Gujarati Films, T.V Serials and Ads.
As an interviewer she had the privilege to interview many stalwarts host talk shows and panel discussions and give commentary for live telecasts & webcasts of important national and international events for Aakashvani, Doordarshan both regional and national.
Hina is also a Member of the Jury to select the Newscasters for Doordarshan Ahmedabad and Announcers for Aakashvani Ahmedabad.
She had the privilege to lend her voice for the very innovative record breaking, first of its kind- 3D holographic election campaigns of the then Chief Minister of Gujarat Shri Narendra Modi in 2012 and later in 2014 for his Prime Ministerial Campaign, which was recorded as the largest public gathering for an election campaign in Guinness Book of World Records.
Currently she is also engaged in conducting workshops for aspiring voicing artists. As a trainer she has been conducting training programs for AIR Ahmedabad Regional Training Centre, Doordarshan, Department of Journalism and Communication, Gujarat University and other private organizations and Communication Academies. For her significant career achievements and contributions to society the American Biographical Institute, Raleigh, USA honored her with a place as a 2000 HONOREE in their international publication "International Who's Who of Professional and Business Women", Seventh Edition.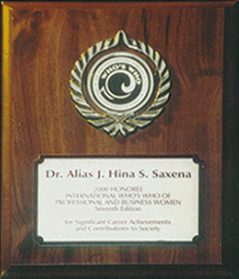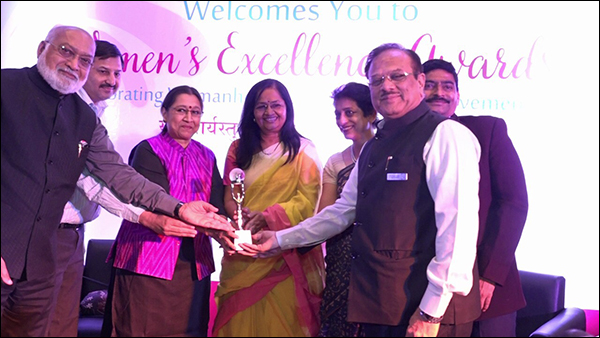 Hina Saxena was honoured by Utkarsh Health Foundation Ahmedabad, for professional excellence as a voicing artist on 7th March 2018 at the hands of Smt. Anjali Rupani.